Effective noise reduction by reflection.
Soundshield combats noise pollution by acting as a reflective barrier, efficiently blocking sound from exiting a contained area and providing peace of mind for nearby residents. With a Weighted Sound Reduction Index (Rw) of 28, Soundshield provides excellent sound insulation performance.
Exceptional noise control through absorption.
Peacemaker is made of sound absorbing polyethylene foam that effectively traps noise within its cell structure. Sound absorption testing indicates a perfect Noise Reduction Coefficient (NRC) of 1. Peacemaker offers consistent acoustical performance across a variety of environments, and its hydrophobic properties protect against humidity and water absorption, while being flame retardant.
Ultra noise reduction by absorption & reflection.
Acoustic+ combines the sound attenuation properties of both Soundshield and Peacemaker to yield superior noise reduction results. Actively reducing noise in three phases (absorbing – reflecting – absorbing), Acoustic+ is Configured Platforms premier acoustic solution. A zero echo sound isolation system, Acoustic+ offers good looks and seamless integration with the clean lines of the Acoustic Screen Wall.
Soundshield, Peacemaker and Acoustic+
aesthetically conceal equipment, ductwork, and pipework from view while also controlling acoustic attenuation.
Design
Can be fitted to any sides of Series 1, 2 or 3 Platforms and to any 600mm increment from the corners.
Clean straight lines for a very tidy look.
All aluminium components with stainless steel fixings – backed by a 20 year warranty.
Standard Heights: 1200mm, 1600mm, 2000mm & 2400mm
Super lightweight: Soundshield 15.25kg/m²  Peacemaker 7.25kg/m²   Acoustic+  16.5kg/m²
Complies to BS EN 516 2006 and BS EN 1090-3 2008
Versatile

Can be powder coated to standard colour range.
Configurable online in 600mm increment lengths to suit your requirements.
The lightweight aluminium design makes it easy for carrying, craning and assembly.
Speed
Kit form allows them to be assembled by a trade already on site with our easy to follow installation manual.
Take the stress out of your project with our nationwide approved installer network.
Specify Configured Platforms
Provide Soundshield/Peacemaker/Acoustic+ to Configured Platform edges where aesthetically required to screen off equipment, ductwork, and pipework and where acoustic attenuation control is required.
With Optional Access Gap or Door?
An Access Gap of any 600mm increment wide is configurable in the Standard Screen Wall
A Self Closing Access Door 600mm wide is configurable in the Soundshield/Peacemaker/Acoustic+  Screen Wall
A Self Closing Double Access Door 1200mm wide (2 x 600mm doors) is configurable in the Soundshield/Peacemaker/Acoustic+ Screen Wall
Colour Chart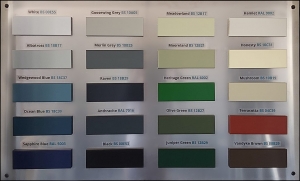 Please remember to register for a Specifier Portal to take advantage of our Configurator for producing your project specific drawings and costings 24/7.
Your projects will be saved on your dashboard and you can participate in our Specifier Rewards Program.