Design
Can be fitted to any sides of Series 1, 2 or 3 Platforms or Speedscreen System.
Outer surround treatment choice as Standard Screen or Louver100
Flush finish to inside face with aluminium components and stainless steel fixings.
Absorbent acoustic panels are hydrophobic and performance is not effected by weather conditions.
Standard Heights: 1200mm, 1600mm, 2000mm & 2400mm
Screen make-up weight: 16.5kg/m²
Complies to BS EN 516 2006 and BS EN 1090-3 2008
Backed by a 20 year product warranty.
Versatile
Retrofit upgrade possible to any existing Configured Platform enclosure installation.
The lightweight aluminium design makes it easy for carrying, craning and assembly.
Specify Acoustic+
Provide Acoustic+ to elevations where a premium level of acoustic attenuation control is required in all frequency ranges.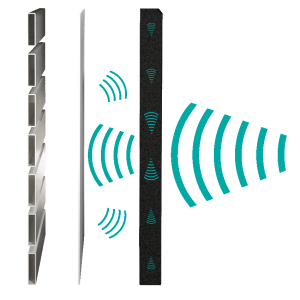 Please remember to register for a Specifier Portal to take advantage of our Configurator for producing your project specific drawings and costings 24/7.
Your projects will be saved on your dashboard and you can participate in our Specifier Rewards Program.